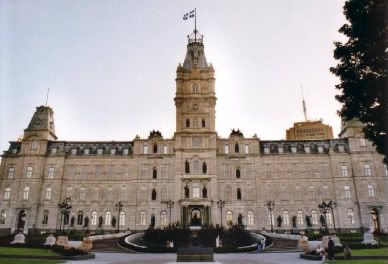 The Chancellor hated unpunctuality. He could rarely think of a trait that he hated so much in another person. For nearly two hours, Daniel-Étienne Vallières and his posse of foreign ministry lackeys had found themselves sitting around meeting room in the
Assemblée nationale
in downtown Montréal, eagerly awaiting the visiting party. While normally he would have more than likely given the offenders a verbal scolding, for His Holiness, the Chancellor didn't mind as much as he usually would. It was widely known that Pope Pius IX did not regularly travel for diplomatic summits, and as such Vallières felt it necessary to meet him himself and exercise a good amount of restraint upon his usual pet peeves.
As a weary Vallières glanced upon his Heanseatic-made watch, an Acadian diplomat stumbled through the door.
"Chancellor, he's here."

Acadian Commonwealth




Posts

: 13


Join date

: 2008-11-16


Location

: Torontograd, Soviet Canuckistan



His Holiness arrived at the Assemblée nationale in a large black car, along with an entourage of smaller black cars. In the vehicles were, amongst others, Swiss guards, Papal guards, translators, doctors, advisers, historians, cultural experts, priests, bishops and even artists. Pius hated this ludicrous fanfare which inevitably accompanied him wherever he went, but it was a tradition he was compelled to uphold by ancient Catholic lore and the insistence of his over-adoring ministers.

Out of all these dozens of cronies, only two men accompanied him inside. The first was Aelius Sejanus, the Pope's right-hand man who fulfilled the roles of chief adviser, personal servant and best friend to Pius. He also had a talent for languages, and one of the five tongues he was fluent in was, fortunately, French. The second was His Holiness' strange, mute bodyguard Gaius Asinius Saloninus. Despite his bespectacled face and wiry, unintimidating body, there was a general acceptance amongst his peers that Gaius was not a man to be crossed.

As they approached the meeting room, Sejanus' eyes flitted anxiously between the obvious irritation of Daniel-Étienne Vallières and the painfully slow progress of His Holiness, who was shuffling gradually towards the Acadian, swinging his needlessly ornate walking stick as he went. After what seemed hours Pius finally reached the Chancellor and, standing as straight as his time-ravaged spine would allow, extended a hand of friendship.

"It's a pleasure to meet you, sir." rasped the Pope in a harsh, quiet voice as Sejanus translated, "Apologies for my slight lateness- I can't move very fast on account of my various war wounds."

The Papal States




Posts

: 37


Join date

: 2008-11-15


Location

: UK



Similar topics
---
Permissions in this forum:
You
cannot
reply to topics in this forum