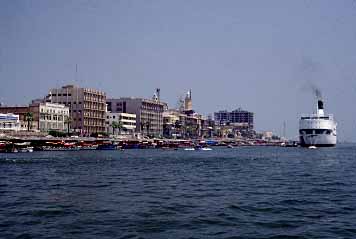 An international cruise liner makes its way towards the Red Sea.
Sabitha, Northern Provinces, L'iao Biella
- Prince Ahmed expressed his concern today over the planned arrival of the Hanseatic Empires' cruiser Deutschland into the Mediterranean Sea via the Strait of Gibraltar. Their intended port is within that of neighboring Seljuk. According to the Hanse Reich Nachricten newspaper the proposed reason for this endeavor is based on; "The Mediterranean Sea has become lately a safe haven for pirates and privateers seeking to hinder the economical situation of the rich Hanseatic Empire that has for centuries been trading with the nations and tribes of Africa and the Far East."
Prince Ahmed was alerted to this planned arrival and told reporters, "While it is believed that small bands of pirates do inhabit the Sea, it is by no means justification for those within the Germanic region to defile our waters with their foul stench. We believe that travel within the sea should remain open to all, but the notion that a battleship shall enter so close to our sacred land, without the outcry of our government and noble King, is preposterous. Our eyes shall be set upon those who seek to enter under false pretenses."
In response, the government, under the oversight of King Sulaiman IV closed the port city of Bur Sa'id and the adjoined Suez Canal to international shipping and tourism. This comes as a stark contrast to the fifty-plus year openness on international use of the prized channel. Prime Minister Amin Qaderi expressed concern early last year that keeping the lane open would result in a squandering of possible tax revenue for the nation, but during his weekly radio address on Wednesday he expressed great emotion for this new development.
'It comes with great joy in my heart that I tell the citizens of our fair nation that the canal shall be closed, and all of those with L'iao Biella shall soon reap the benefits of the bountiful tariffs to be placed upon the canal. Our King, hallowed and mindful, has come to the decision that it is in the best interest of his people to believe his decision is one made with great conscience.'
A response from the Hanseatic Empire is to be expected soon, as the government believes it can resolve all issues before turning to less diplomatic means.
Headlines
* National soccer team begins tryouts
* Fierce resistance found on Gaza Strip
* Royal Family to visit Canary Islands

L'iao Biella




Posts

: 21


Join date

: 2008-11-12




---
Permissions in this forum:
You
cannot
reply to topics in this forum